From Venus with Love Tour Europe 2022
Lectures and Workshops on the Venus-Earth-Connection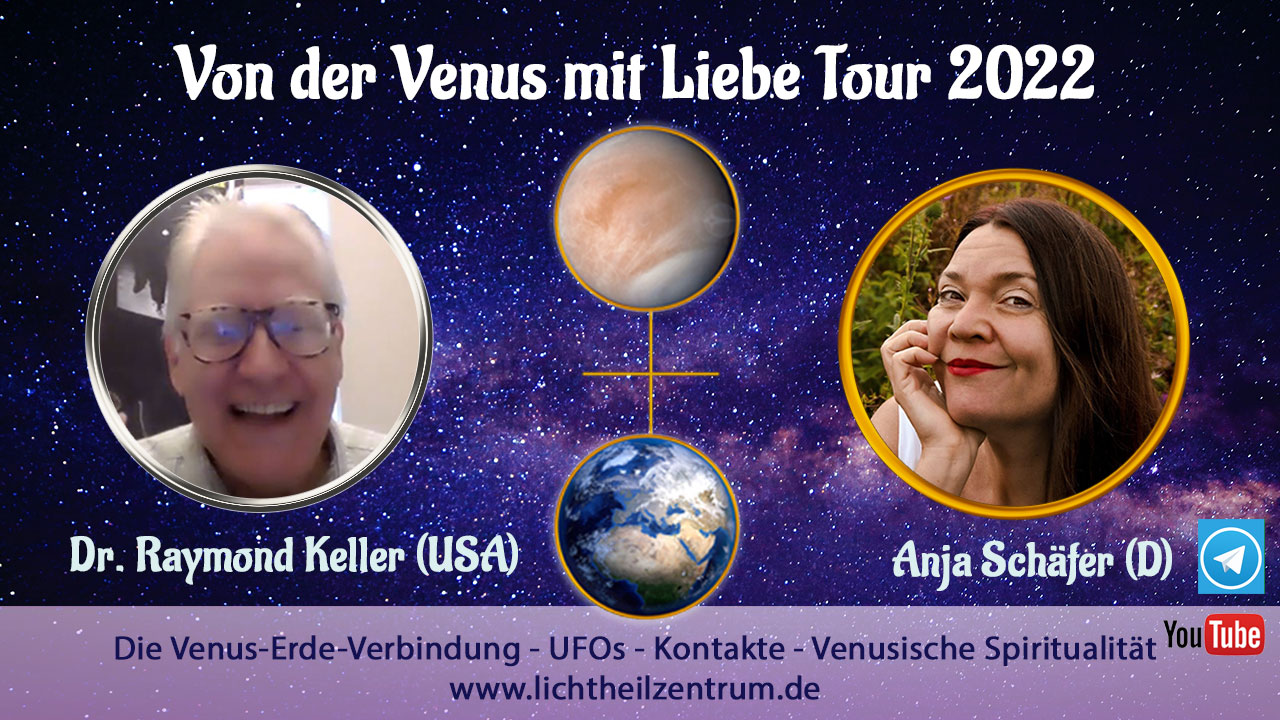 From Venus with Love Tour Europe 2022 (Germany and Austria)
UFOs – Venusians – Extraterrestrials – Contacts – Messages and spiritual teachings from our sister planet
with Dr. Raymond Keller "Cosmic Ray" (USA) and Anja Schäfer (D)
Dr. Raymond A. Keller, alias "Cosmic Ray", from the USA, UFO contact person and author of the highly acclaimed "Venus Rising" book series (engl. "Ascending Venus" – volume 1 will be published in German in spring 2022) presents together with Anja Schäfer amazing information about the presence of Venusians on our planet in the past and present.
People from all nations and all walks of life have been contacted by Venusians and other angelic extraterrestrials. Ray and Anja explain the amazing science behind the flying saucers that have been traversing our skies for thousands of years, talk about the advanced civilization on our neighboring planet Venus, and introduce the concepts of Venusian spirituality. By raising your consciousness and establishing or deepening your inner connection with your starseed essence, you can help yourself, humanity and Earth consciously and joyfully accompany the ushering in of the long-awaited Aquarian Age.
Schedule and content for all four dates in May and June 2022 in Germany/Austria. Details are currrently in progress.
We plan online transmissions or webinars as well for those who cannot participate personally.
We are planning approximately the same schedule for all four tour dates. We reserve the right to make small changes and would like to remain "Venusian flexible" and up to date in every way, i.e. go with the flow. The following program schedule is for our and your orientation:
Evening Program Friday "Venus Lecture"
19.00 Introductory lecture "From Venus with Love: Contacts – UFOs – Galactic Connections".
Day program Saturday "From Venus with Love"
Contacts – UFOs – Galactic Connections – Day Workshop
13.00 Lecture with presentation part 1
14.30 Questions and answers – open round
15.00 Book table
15.30 Lecture with presentation part 2
17.00 Questions and answers – open round
18.00 Break
19.30 Dinner with open round.
Ray speaks English. Presentations and Q&A sessions during the program will be translated into German.
▼♡▼♡▼ Related Articles ▼♡▼♡▼
Venus Rising - Thank you, Ray! Thank to our Venus Connection and to our friendship, Ray sent me his fifth book titled "Lady Columba Venus Revelations" as a gift. Since I started to read it, I feel that new revelations and old memories are starting to ascend and to...